Razbrizz E-Commerce Solution - RazCart
RazCart provides you with an easy to use, intuitive system for selling online and at a price suitable for small businesses.
If you've looked at other shopping cart solutions (and you should) you will know that they can be and often are far more complicated to use than they need to be both for the shopper and the retailer. Our E-Commerce solution has been designed from the ground-up with ease of use in mind and is not available anywhere else on the Internet!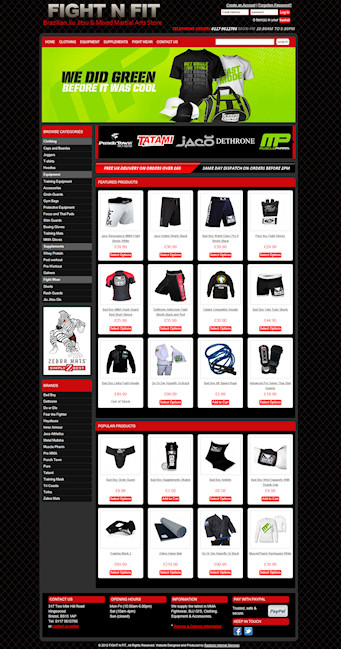 The image on the right shows a real RazCart site in action, you can visit this site by going to Fight'n Fit MMA but bear in mind that any orders you place are real, you will be charged and the goods delivered!
Full PayPal Integration
Because we've chosen PayPal to handle the online payment processing you can use your PayPal account to collect all payments and issue refunds securely. PayPal is a highly recognised payment processor. Many people will refuse to use anything else for online transactions.
Your own identity
We appreciate that every business wants to stamp its own identity all over its online store. Which is why we fully customise the style of your store according to your wishes. Including your logo, colours, banners, images and where possible the layout. We can get you up and running within a few quick weeks. And offer unlimited email support to all customers.
Promote Your Online Store
With RazCart you can create Discount Codes to promote your website anywhere on the internet, including Facebook and Twitter. You might also like to print off some flyers for distribution via your high street store, or to post to your customers, the promotional possibilities are practically endless!
And Finally
We are continually improving RazCart by adding new features and listening to our customers. If you would like something added or if you spot a bug just drop us a line and let us know.
Contact us for more information and a quote.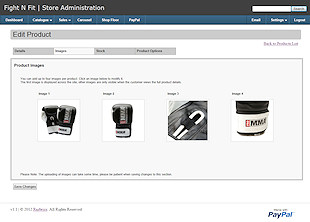 Editing and uploading product images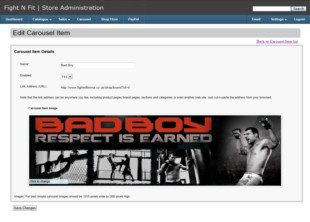 Editing a large carousel banner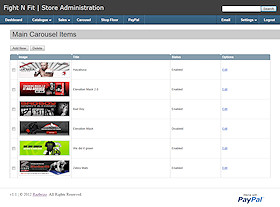 Products, orders, carousel items etc etc can be viewed as simple lists
Main Features
• Orders processed securely via PayPal
• View & Process Orders Online
• Manage customers online
• Print Invoices/Packing Notes
• Optionally track stock and view low-stock items
• View most popular customer wishlist items
• Easy to use and intuitive, unlike most online shopping cart solutions
• Create Discount Codes to promote your store around the Internet
• Shipping Rules allow you to specify country-by-country and Woldwide shipping rates
• Shop by Brand or category
• Customers can Search, view what's hot, and latest additions for all sections/categories.
• View items by popularity, low-price or high-price
• Features an automatically updated brands carousel
• A large banner carousel is guaranteed to get the attention of your customers
• Customers can view past orders, manage shipping details and personal information
• Fully customised style and images unique to your site
• Fully hosted service
• And much more